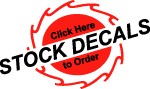 Our Products and Services area provides you with with 24-hour access to our company. From here you can:
*Order Stock Decals
*Request an Estimate
*Place an Order
*Transfer Files
*Review Products & Services
To order stock decals, click on the Stock Decals image at the right. For other iquiries, simply select your destination from the "In This Section" list on the sub menu to the right.
Thank you for your interest in Fireball Decals in Centerville, SD.